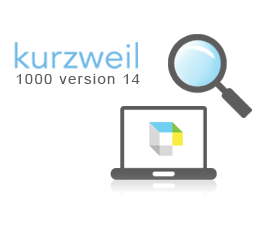 Award-winning scan and read software that makes printed or electronic text accessible to people who are blind or visually impaired. Combining traditional reading machine technologies, such as scanning, image processing, and text-to-speech, with communication and productivity tools eases and enhances users' reading, writing, and learning experiences.
Speaks text aloud in a variety of natural-sounding voices that can be modified to individual preferences.
Enables users to write and edit documents, and to complete simple forms independently.
Assists with note taking, summarizing content, and outlining text.
Converts text to MP3 files for on-the-go access.
Save Time and Gain Independence
Learn more Learn about the newest features added with the latest release of Kurzweil 1000, or try it for free with a 30-day trial.
Quotes
I use Kurzweil 1000 to scan my books, mail, even food boxes. I have found it to be the most efficient and user-friendly way for me to read almost anything without human assistance. Each new version of Kurzweil 1000 has increased scanning accuracy and added features that make scanning, finding, and reading material of all types faster and easier.
Sarah Van O, Kurzweil 1000 User
Product Information
Learn more about what you can do with Kurzweil 1000.
Features & Highlights
|
Success Stories
|
Product Overview MP3 Recording
Help & Training
Downloads
Get software updates, free trials, and product guides.
Free Trial
|
Software Updates
|
Product Guides
Scanner Capability
Select your device, capture the image quickly and start reading! In addition to traditional scanners, Kurzweil 1000 now supports the following cameras for content acquisition: